When the season for planting comes, do you know what seed(s) you will be putting into the soil of your 2014 living?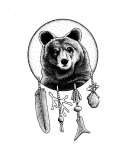 Consult the teaching of Bear (Medicine Cards by Jamie Sams and David Carson) and see what wisdom it holds for you.
?In the cave, Bear seeks answers while he/she is dreaming or hibernating. Bear is then reborn in the spring, like the opening of spring flowers.?
?Journey with Bear to the quietness of your cave and hibernate in silence. Dream your dreams and own them. Then in strength you will be ready to discover the honey waiting in the Tree of Life.?
Melanie