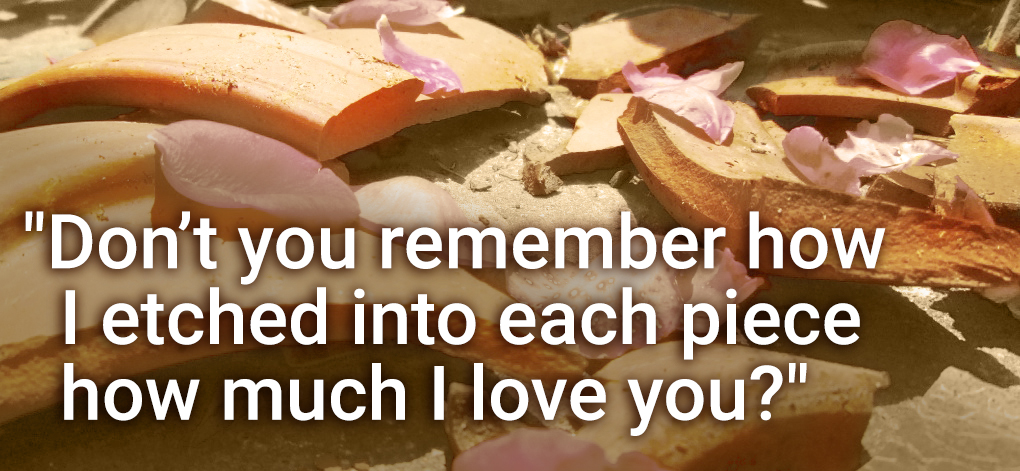 I received this inspirational message on love some 20 years ago in a dream. At the time, the life I was familiar with seemed to be in broken pieces.
The imagery is that of shards of a clay pot lying on the ground in front of the one who is intently listening to me as I am sharing my deep distress. It appears that as I am sharing with him, he is picking up the shards and putting them back together.
In the moment of this awareness, he says, "Don't you remember how I etched into each piece how much I love you?"
I sense my sharing is complete and I am ready to leave. As I start walking away, he taps me on my left shoulder. I turn to face him. He takes my right hand, opens my palm and places the clay pot, once again intact and completed, into it.
What I received from this dream was a message on Love and its capacity to restore brokenness. The experiences of distress, which I later called lamentations, were being shared with one who had a capacity to listen. He was able to remind me that, in the midst of all this madness, there was a remembering that would mend each broken piece.
It took a couple of years for the integration of the message and the inner experience to reveal itself.
The dream came to me when I was in my later 40s and since that time, I have found that sharing this remembering of how love is etched into the pieces of our lives helps to heal wounds. In our times of suffering, forgetting love's capacity may leave us feeling overwhelmed. You are invited into a quality of love beyond measure that can help in your restoration and renewal, inspiring you to re-member yourself.
The inspirational message is likened to how a pearl is formed. By nature,
when an irritant enters the shell of a mollusk, it instinctively makes layers
from shell material; the outcome, a beautiful shiny pearl. The pearl, YOU,
is formed by the challenges/opportunites presented to us in life and the
wisdom of life itself. What does the message tell us? It shows and teaches
us about a kind of of love, beyond understanding. It's a feeling, when
experienced, has the capacity to heal all that feels broken. This teaching is
the very essence of how MOW came about.
We would like very much to hear your journeys of re-membering, and we look forward to your sharing with us on this site.Share with us and leave a comment below.