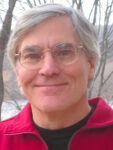 Practices: Reiki, Fitness Coaching
Location: Hastings-on-Hudson, N.Y.
Email: thforbes11@gmail.com
Phone: 914-844-6706
I first encountered universal life force energy while I was interviewing Melanie Chong and Daiken Nelson for a story I was writing about Reiki. Melanie told me to hold my hands in front of me and slowly move the palms toward each other.
"Do you feel anything," she asked.
I did. And I was hooked.
It helped when Melanie then expressed her belief that practitioners need to "take the woo-woo out" of Reiki. Not that the woo-woo isn't there if you want it to be. It's just that you can benefit from Reiki's restorative powers without having any inkling about—or interest in—said woo.
I began to attend Melanie's monthly get-togethers with Daiken, Rita and Joanne just to learn more about Reiki, but not to practice it myself. After nine months, Melanie suggested that I had learned enough to be attuned to First Degree Reiki, Shoden, if I wanted to be. I hadn't consciously realized until that moment that I would be interested in practicing Reiki, but I was.
Perhaps the only real requirement for experiencing Reiki—being open—was seeping into me.
I completed Second Degree, Okuden, training a few months later and, in February, 2013, earned a Master designation, enabling me to pass along the Usui System to others.
I am drawn to Reiki's simplicity. I've read a lot about how and why it works. I find the words interesting and reinforcing. But mostly, I am pleased when someone who has come to a treatment with a skeptical mind opens his or her eyes when the session is over and says, "that was good" or "I feel very relaxed."
All I've done is enable that person to heal herself or himself.
I recently have transitioned from primarily making my living as a writer and editor to learning and practicing healing modalities to help anyone who is looking to feel better in mind, body, spirit.
In addition to my Reiki practice, I am certified as a personal trainer by the National Academy of Sports Medicine and have taken several additional trainings in senior fitness. I conduct a FitAfter49 online class six days a week.
I have also earned the Cancer Exercise Specialist Advanced Qualification certification from the Cancer Exercise Training Institute.
Mostly, I remain an avid student of various methods and modalities that help us to appreciate just how wonderful this existence we enjoy—but sometimes don't—can be.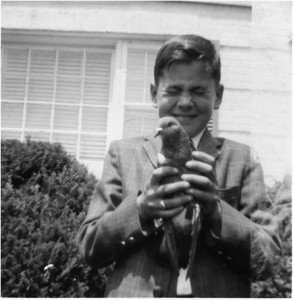 With Chatterbox, a pigeon with a lot of "woo," 1962