It is almost a year since there was a post to melaniechong.com so I am led to begin ?again at a time when I think and feel most of us are experiencing the coming of the ?harvest season, autumn.
This post, ?See the Forest and the Trees,? is an intentional change to the familiar phrase that we?re not seeing the forest for the trees.
This came to mind as I began to feel that a reflection or contemplation could include ?the forest concept, the bigger picture, and the trees ? the details of the object of the reflection/contemplation. It is as if I could engage in an exercise that allowed me to expand and return, with the result of mental development.
Visualize, in your mind?s eye, a wheel that has a central hub and the spokes that connect to the circumference of the periphery.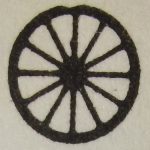 Add to this visual, your normal respiration of exhaling and inhaling.
When you exhale, allow your mind energy to travel outward to the circumference/periphery of the wheel. On your inhale, allow your mind energy to travel inward and return to the central hub of the wheel.
What are you becoming aware of in this exercise? Make a note to yourself ?
More to come on this exercise. I would love to hear about your direct experience with this simple beginning.
Melanie